Lemon Chicken with Quick Fried Rice
4 servings, ready in 30 minutes
Learn now how to make Lemon Chicken with Quick Fried Rice! This delightful recipe is surprisingly easy to make with our step-by-step instructions. Try it now with SPLENDA® Stevia Crystal!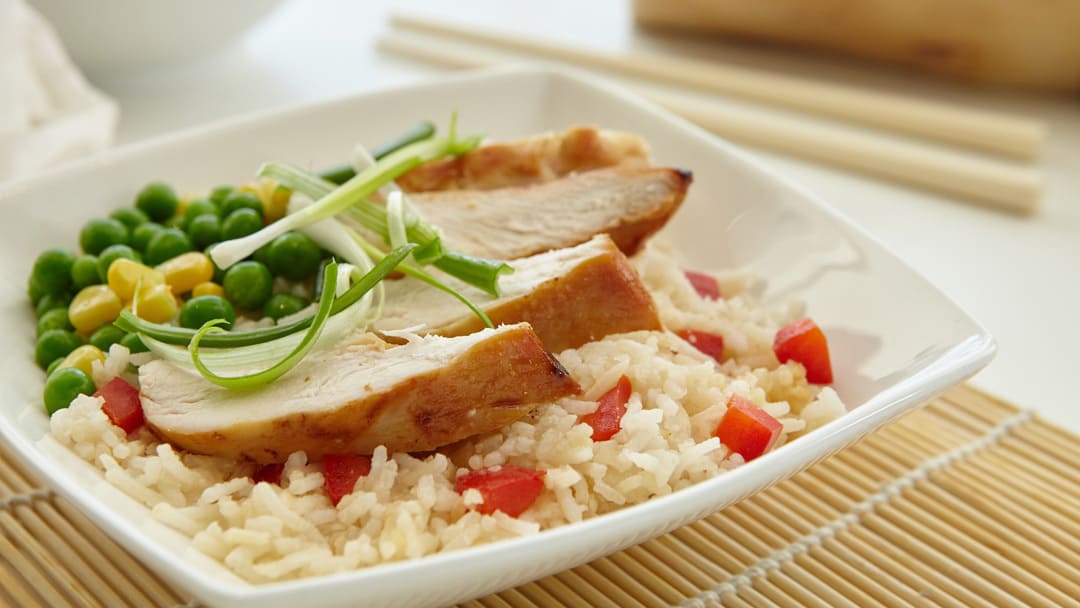 Preparation time: 15 minutes
Cooking time: 15 minutes
Method
Put the corn flour and lemon zest in a small bowl. Gradually whisk in lemon juice. Stir in stock and SPLENDA® Stevia Crystal. Set aside.
Quick fried rice
Cook rice in a small saucepan of boiling water, following packet instructions, or until tender. Drain well. Set aside.
Brush a large wok with the oil and heat over medium-high. Add vegetables and stir-fry for 3 - 4 minutes or until just tender. Add rice and stir-fry for 2 - 3 minutes or until heated through. Toss in soy sauce and heat through for 1 minute. Transfer to a bowl. Cover with foil and set aside.
Lemon chicken
Heat the oil in the wok over medium-high heat. Add the chicken and stir-fry for 3 minutes or until browned and almost cooked. Remove chicken from wok and diagonally slice. Add sauce to the wok and bring to a simmer. Simmer for 2 minutes. Add chicken and cook, stirring occasionally, for 2 minutes or until the chicken is cooked and the sauce thickens.
Divide the fried rice between serving bowls. Spoon the chicken and sauce over. Top with the shallots to serve.
Ingredients
- - - - - - - - - - - - - -
Lemon chicken
- - - - - - - - - - - - - -
2 tsp cornflour
1 tsp finely grated lemon zest
80 ml freshly squeezed lemon juice
80 ml salt-reduced chicken stock
¼ cup SPLENDA® Stevia Crystal
1 tsp olive oil
500g chicken tenderloins, trimmed of fat, tendon removed
2 green shallots, cut into short thin strips
- - - - - - - - - - - - - -
Quick fried rice
- - - - - - - - - - - - - -
150g basmati rice
1 tsp olive oil
500g pkt frozen mixed chopped vegetables
2 tsp salt-reduced soy sauce