Apple Lattice Pie
8 servings, ready in 1 hour and 55 minutes
Discover this easy, delicious & all-star recipe from the SPLENDA® Brand! This Apple Lattice Pie brings life into your kitchen, try it now with SPLENDA® Stevia Crystal!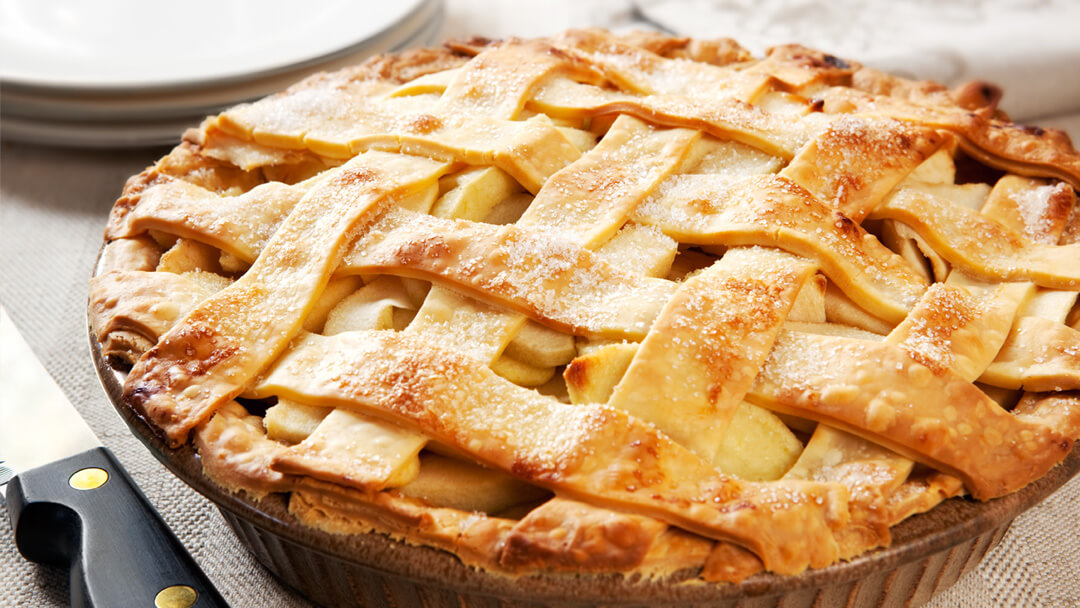 Serves: 8
Preparation time: 25 minutes plus 30 minutes chilling time (pastry)
Cooking time: 1 hour
Method
Pastry
Sift the flour into a bowl and stir in the SPLENDA® Stevia Crystal. Rub in the margarine until the mixture resembles fine breadcrumbs.
Add enough cold water to form the mixture into a dough. Wrap in cling film and chill for 30 minutes.
Remove from the fridge and on a lightly floured surface roll the pastry out thinly using a rolling pin. Line a 9 inch shallow, loose-bottomed flan tin with the pastry, reserving the trimmings for the lattice. Chill until ready to use.
Filling
Preheat oven to 230°C.
Peel, core and cut apples into 1cm (½ inch) thick slices. Toss with the lemon rind and juice. Combine the SPLENDA® Stevia Crystal, flour and cinnamon. Stir into the apples.
Spoon into the chilled pie crust. Dot with margarine.
Cut remaining pastry into 2cm (¾ inch) strips. Weave strips on top of pie in lattice fashion. Where the strips meet the edge of the pie, seal by brushing with water and pinching together, trimming any excess with a sharp knife.
Bake at 230°C for 10 minutes. Reduce oven temperature to 180°C and bake 35-40 minutes longer or until apples are tender.
*Diabetes Friendly Recipes contain < 10% of total calories from saturated fat, and no more than 40 grams of carbohydrate per serving.
Ingredients
- - - - - - - - - - - - - -
For the pastry
- - - - - - - - - - - - - -
250g plain flour
125g polyunsaturated margarine
2 tbsp SPLENDA® Stevia Crystal
- - - - - - - - - - - - - -
For the filling
- - - - - - - - - - - - - -
6 medium apples
½ tsp grated lemon rind
1 tbsp lemon juice
20g SPLENDA® Stevia Crystal
2 tbsp plain flour
2 tsp cinnamon
10g low fat margarine